October 22, 2020
Chemical Engineering professor recognized for contributions to the field, as well as dedication to his community.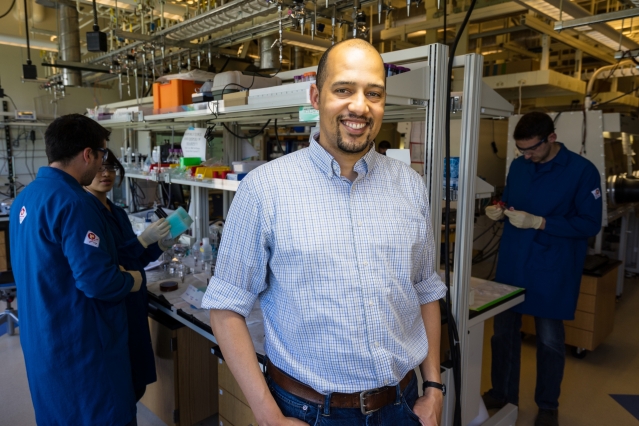 The National Organization for the Professional Advancement of Black Chemists and Chemical Engineers (NOBCChE), has selected Associate Professor Fikile Brushett as the 2020 NOBCChE recipient of the Lloyd N. Ferguson Young Scientist Award for Excellence in Research. This award is granted to a young scientist who has demonstrated technical excellence and documented contributions to their field. It also recognizes dedication shown to research and to the community.
Brushett received the award at NOBBChE's Annual Conference on September 25th, and is scheduled to give the Lloyd Ferguson Lecture on May 11, 2021, as part of its Master Scientist Series.
"I am humbled to receive this award from NOBCChE," says Brushett. "It is a honor to be recognized by my peers and my community in this fashion. I am also deeply grateful to all the teachers, mentors, and students who have supported my growth as a researcher, educator, and leader over the course of my career. I hope to serve as a role model and mentor for young people of color and to encourage them to consider careers in STEM fields."
Brushett holds the Cecil and Ida Green Career Development Chair. His research group seeks to advance the science and engineering of electrochemical technologies that enable a sustainable energy economy.  Brushett is especially interested in the fundamental processes that define the performance, cost, and lifetime of present day and future electrochemical systems.  His group currently works on redox flow batteries for grid storage and electrochemical processing of carbon dioxide and biomass.  Brushett also serves as the Research Integration co-lead for the Joint Center for Energy Storage Research, a DOE-funded Energy Innovation Hub. Brushett received his BSE in chemical and biomolecular engineering from the University of Pennsylvania in 2006 and his PhD in chemical engineering from the University of Illinois at Urbana-Champaign in 2010, under the supervision of Professor Paul J. A. Kenis.  From 2010-2012, he was a Director's Postdoctoral Fellow in the Electrochemical Energy Storage Group at Argonne National Laboratory under the supervision of Dr. John T. Vaughey.
This award was named for African-American chemist Dr. Lloyd Noel Ferguson (1918-2011), who, in 1972, co-founded the National Organization for the Professional Advancement of Black Chemists and Chemical Engineers (NOBCChE). Previous winners include MIT Chemical Engineering alumni Thomas H. Epps '98 SM '99 (2008), LaShanda Korley PhD '05 (2019), and MIT Chemical Engineering Department Head Paula Hammond '84 PhD '93 (2000).