"Skin-Inspired Organic Electronic Materials"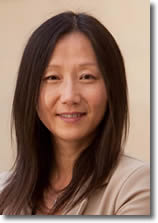 Zhenan Bao
Professor of Chemical Engineering and Material Science and Engineering,
Stanford University
Friday, April 29, 2016
3:00 p.m., Room 66-110
Massachusetts Institute of Technology
Cambridge, MA
Technical Lecture
"Polymer and Carbon Nano Materials for Energy Applications"
Thursday, April 28, 2016
3:00 p.m., Room 66-110

Zhenan Bao is a Professor of Chemical Engineering at Stanford University, and by courtesy a Professor of Chemistry and Professor of Material Science and Engineering. Prior to joining Stanford in 2004, she was a Distinguished Member of Technical Staff in Bell Labs, Lucent Technologies from 1995-2004. She has over 400 refereed publications and over 60 US patents with a Google Scholar H-Index of >110.
Bao is a member of the National Academy of Engineering. She served as a Board Member for the National Academy Board on Chemical Sciences and Technology and Board of Directors for the Materials Research Society (MRS). She is an Associate Editor for Chemical Sciences. She serves/served on the international advisory board for Nature Asia Materials, Journal of American Chemical Society, Advanced Materials, Advanced Functional Materials, Advanced Energy Materials, Advanced Electronic Materials, ACS Nano, Chemistry of Materials, Nanoscale, Chemical Communication, Macromolecules, Organic Electronics, Materials Horizon and Materials Today.
Bao is a Fellow of ACS, AAAS, MRS, SPIE, ACS PMSE and ACS POLY.
Bao was the recipient of the AICHE Andreas Acroivos Award for Professional Progress in Chemical Engineering 2014, ACS Polymer Division Carl S. Marvel Creative Polymer Chemistry Award 2013, ACS Author Cope Scholar Award 2011, Royal Society of Chemistry Beilby Medal and Prize 2009, IUPAC Creativity in Applied Polymer Science Prize 2008, American Chemical Society Team Innovation Award 2001, R&D 100 Award 2001.
Bao was selected by MIT Technology Review magazine in 2003 as one of the top 100 young innovators. She is among the world's top 100 materials scientists by Thomson Reuters.  She is a co-founder and on the Board of Directors for C3 Nano, a silicon-valley venture funded start-up commercializing flexible transparent electrodes using nanomaterials.