"Challenges and opportunities in the production of renewable chemicals and fuels in Brazil and the US"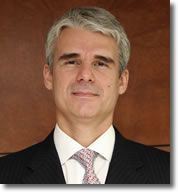 Bernardo Gradin
Chief Executive Officer, GranBio
Friday, May 8, 2015
3:00 p.m., Room 66-110
Massachusetts Institute of Technology
Cambridge, MA
Bernardo Gradin was born in Bahia, Brazil in 1964. He is a civil engineer by trade, with an undergraduate degree from Politechnic School of Federal University of Bahia (1988), MA in International Studies from University of Pennsylvania and an MBA from The Wharton School of Business (1993).
He worked at the Odebrecht Group from 1988 to 1999 in Brazil and the U.S. In 2000 he moved to Braskem, where he was CEO from 2008 to 2010.
In 2011 Gradin founded and became CEO of GranBio, an industrial biotechnology company and became president of Inspirare Institute, a non-profit organization oriented to foster basic education in Brazil.
Gradin is a board member of ABIQUIM (Brazilian Chemical Association), board member of CNPEM (Brazilian National Labs), leader of the CNI Bioeconomy Commission and chairman of the Chemistry & Advanced Material Community at the World Economic Forum.