"The Impact of Mega Economic Trends on the Chemical Industry and Chemical Engineering Profession"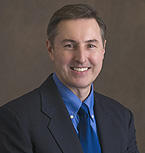 William F. Banholzer
Executive Vice President and Chief Technology Officer, Dow Chemical Company
Friday, April 17, 2009
3:00 p.m., Building 66-110
Massachusetts Institute of Technology
(Reception at 2:30 in 66-201)
William F. Banholzer is Executive Vice President and Chief Technology Officer of The Dow Chemical Company, located in Midland, Michigan. He is a member of the Dow's Executive Leadership Committee, Management Committee, chairs the company's Innovation Committee, and leads Dow's research and development activities across the globe.  Banholzer serves on Dow's Venture Capital Board, Dow AgroSciences' Members Committee, the Dow Foundation, and the governing Council of the U.S. National Academy of Engineering.  He is a member of the Board of Directors of Dow Corning Corporation and serves on the Board's Corporate Responsibility Committee.
Prior to Dow, Banholzer had a 22-year career with General Electric Company (GE), where he was vice president of Global Technology at GE Advanced Materials, responsible for worldwide technology and engineering.
He joined GE in 1983 as a staff chemical engineer in the company's Corporate Research and Development Laboratory. In 1989, he led GE R&D Center's chemical vapor deposition material program and later was promoted to laboratory manager for Advanced Inorganic Materials. In 1992, Banholzer transferred to GE's Superabrasives business, where he held numerous management positions culminating in responsibility for the division's worldwide engineering and quality efforts. Banholzer was elected a company officer and moved to GE Lighting as vice president of Global Engineering in 1997. In 1999 he transferred to GE's Advanced Materials business as the vice president of global technology, leading a worldwide team responsible for process and product engineering, new capacity technology and product quality initiatives. During his GE career, Banholzer was honored with GE's Bronze, Silver, and Gold Patent Awards; GE Superabrasives' Leadership Award; GE Plastics' CEO Six Sigma Award; and election to the Whitney Gallery of Technical Achievers.
In 2002, Banholzer was elected to the U.S. National Academy of Engineering, one of the highest distinctions that can be accorded an engineer. He is one of only 105 active chemical engineers elected to the prestigious institution, which honors those who have made "important contributions to engineering theory and practice" or demonstrated "unusual accomplishment in the pioneering of new and developing fields of technology." In 2006 he was elected by the Academy membership to serve as one of 12 councillors comprising the governing body of the NAE.
Banholzer serves as a presidential nominee to the MIT Corporation Visiting Committee for the Department of Chemistry. He also sits on the advisory board for chemistry and chemical engineering at UC Berkeley, is a member of the American Chemical Society and the American Institute of Chemical Engineers.
Banholzer earned a bachelor's degree in chemistry from Marquette University and master's and doctorate degrees in chemical engineering from the University of Illinois. He is a certified Six Sigma Master Black Belt, holds 16 U.S. patents and has over 80 publications, which have received more than 1000 citations, for his work in the field of engineering and chemistry.