"Lessons in Biomedical Innovation and Biotechnology"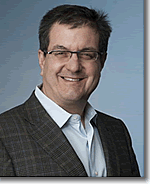 John Maraganore
CEO, Alnylam Pharmaceuticals

Friday, April 27, 2012
3:00 p.m., Room 66-110 (2:30 p.m. Reception)
Department of Chemical Engineering
Massachusetts Institute of Technology
Cambridge, MA
Abstract
For nearly 40 years, a special relationship between academic researchers, company entrepreneurs, and financial investors has enabled an unprecedented translation of biomedical discovery into breakthrough medicines.
The biotechnology industry has emerged as the world's major source of new innovative medicines, delivering profound impact in the treatment of human disease. At its best, biotechnology recognizes disruptive discoveries in basic research that can be harnessed as a platform for drug discovery and development. RNA interference (RNAi) represents one such research discovery and Alnylam represents an example of an entrepreneurial effort to advance this science toward new drugs. Important lessons in the story of RNAi and Alnylam and their broader implications will be shared.
Bio
In December 2002, Dr. Maraganore joined Alnylam Pharmaceuticals as CEO, bringing over 25 years of experience in Research and Development, and business roles with biotechnology companies. Prior to Alnylam he served as an officer and a member of the management team for Millennium Pharmaceuticals, Inc. As Senior Vice President, Strategic Product Development for Millennium, he was responsible for the company's product franchises in Oncology, Cardiovascular, Inflammation, and Metabolic Diseases. He was previously Vice President, Strategic Planning and M&A and prior to that he was General Manager of Millennium BioTherapeutics, Inc., a former subsidiary of Millennium. Before Millennium, he served as Director of Molecular Biology and Director of Market and Business Development at Biogen, Inc. (now Biogen Idec, Inc.). At Biogen, Dr. Maraganore invented and led the discovery and development of Angiomax™ (bivalirudin for injection, formerly Hirulog™) currently marketed by The Medicines Company. Prior to Biogen, Dr. Maraganore was a scientist at ZymoGenetics, Inc., and The Upjohn Company. Dr. Maraganore received his M.S. and Ph.D. in biochemistry and molecular biology at the University of Chicago. Dr. Maraganore is Chairman of Regulus Therapeutics, LLC, and a Director for Agios Pharmaceuticals, Tempero Pharmaceuticals, and bluebird bio. In addition, he is an advisor to Third Rock Ventures. He is also a member of the Immunology Advisory Council of Harvard Medical School and a member of the Biotechnology Industry Organization Board.