February 16, 2021
Professors Kulik and Manthiram named 2021 Sloan Research Fellows in Chemistry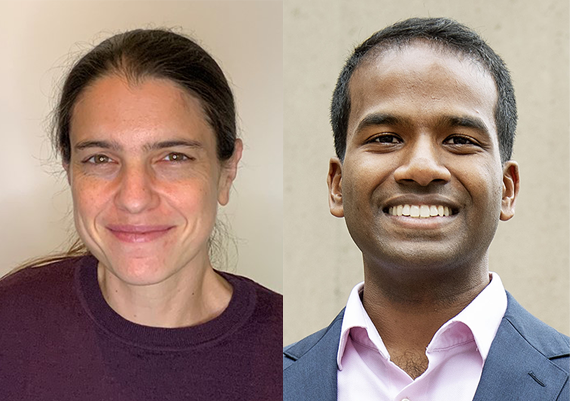 The Alfred P. Sloan Foundation has announced their 2021 Sloan Research Fellows. MIT Chemical Engineering professors Heather Kulik and Karthish Manthiram are among the 128 early-career scholars who the foundation says "represent the most promising scientific researchers working today. Their achievements and potential place them among the next generation of scientific leaders in the U.S. and Canada."
Kulik, Associate Professor in Chemical Engineering, advances first-principles and machine learning computational chemistry to accelerate materials and catalyst discovery. Her group has developed the first machine learning models capable of predicting normally time-consuming quantum mechanical properties of transition metal complexes, rapidly uncovering design principles in weeks instead of lifetimes. Her group develops large-scale quantum mechanical modeling methods and applies them to reveal how enzymes work and how to take inspiration from nature to design next generation catalysts.
"The award from the Sloan foundation will enable my group to continue advancing computational materials and bio-inspired catalyst discovery," says Kulik, "The flexible nature of the support ensures we can continue to push forward these interdisciplinary efforts at the boundaries between fields."
Manthiram states that 'the support of the Sloan Research Fellowship will allow my group to advance the decarbonization of the material world, through electrically-driven synthesis of critical chemicals beginning with just carbon dioxide, dinitrogen, and water. We will pursue new frontiers in synthesizing even more complex molecules starting with these ubiquitous feedstocks."
Manthiram, the Theodore T. Miller Career Development Chair and Assistant Professor in Chemical Engineering, studies the carbon footprint behind most chemicals and materials that we encounter everyday – there is a carbon footprint associated even with the fabric of the clothes we wear, the food we eat, and the disinfectants we spray, he says. To find ways to synthesize these chemicals and materials in a sustainable manner that eliminates the carbon footprint, the Manthiram lab is pioneering the development of a paradigm in which carbon dioxide, dinitrogen, and water can be converted into a wide range of chemicals and materials using renewable electricity. In essence, this would mean that a device which breathes air, drinks water, and takes in solar photons could in principle someday make many of the chemicals that society relies on. The lab specifically looks for ways to facilitate the molecular-level dance through which chemical bonds are broken and formed, so that desired molecules can be made more selectively, efficiently, and at faster rates.
To learn more about the Sloan Fellowship, go to https://sloan.org/fellowships/2021-Fellows
Read More…
Related news:
https://news.mit.edu/2020/teaching-digital-technology-award-winners-0909
https://news.mit.edu/2020/nitric-oxide-messenger-molecule-inside-body-demand-0629
https://cheme.mit.edu/heather-kulik-darpa-fellowship/
https://news.mit.edu/2020/neural-networks-optimize-materials-search-0326