A Tale of Two Cities: What it Takes to Manufacture for Two Frontiers in the War on Cancer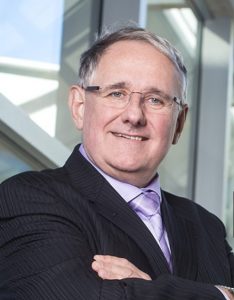 Michael P. Thien, ScD '88
Senior VP of Global Science
Technology & Commercialization, Merck & Co., Inc.
Friday, October 25, 2019
3:00 p.m., 66-110 (Reception 2:45 p.m.)
MIT Department of Chemical Engineering
Cambridge, MA
Abstract:
The ongoing fight against cancer involves waging a battle on at least two "new" fronts.  Vaccination, the first front, seeks to prevent cancer. The challenges of developing and manufacturing a virus-like-particle (VLP)-based vaccine for the prevention of cervical cancer will be described.  These challenges included developing a common recombinant expression system for multiple VLP serotypes, each requiring unique optimization, and ultimately the development of a process for VLP disassembly and reassembly to consistently produce a multivalent VLP product.  In the second case study, the challenges associated with launching and commercializing an immune-oncology product under breakthrough therapy designation will be described.  These challenges included accelerated process development, uncertainly on doses, demands and complex supply chain considerations in order to meet rapidly expanding global demand over near- and long-term timeframes.  Overall, the challenges and lessons-learned from the two unique products and modalities represent an effectual "tale of two cities".
Bio:
Dr. Thien has worked in new product and process development at Merck for over 30 years. After receiving his B.S. in Chemical Engineering from Caltech (1982), an Sc.D. from MIT in biochemical engineering (1988) and a post doc at the Whitehead Institute of Biomedical Research, Mike joined the Merck Research Labs, working in vaccines and recombinant proteins.  Mike was process development leader and plant start-up leader for the first effective commercial HIV protease inhibitor, CRIXIVAN (for which he was given the division's top recognition) and made key contributions to Merck's JANUVIA (a treatment for Type II diabetes) and Merck's efforts in Quality By Design and Knowledge Management. Mike has held various positions within the Research and Manufacturing Divisions at Merck including Senior Director of chemical pilot plant operations, Executive Director of chemical process development, Vice President, Process R&D, Head of Global Pharmaceutical Commercialization, Senior Vice President, Global Science, Technology and Commercialization. In 2012, he also took on responsibility for technical support of commercial sterile operations.  In 2013, Mike's role added new product development and in-line support for therapeutic proteins, vaccines and Animal health products.  In 2017, Mike was named as head of the end to end Operating Unit for Biologics, Therapeutic Proteins and Sterile Operations.  Mike currently leads the Manufacturing Systems Design and Commercialization group which is responsible for the introduction of new processes and methods for new vaccine and biological products, new product technology transfer, deep scientific and engineering support for in-line products, new facility introduction and start-up, and development of the next & best practices for new facilities.