Engineering Next-Generation T Cells for Cancer Immunotherapy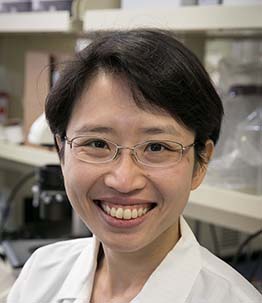 Yvonne Chen
Department of Microbiology, Immunology, and Molecular Genetics
University of California, Los Angeles

Friday, September 15, 2023
3:00 p.m. (reception 2:30 p.m.)
Room: 66-110
Massachusetts Institute of Technology

Abstract:
The adoptive transfer of T cells expressing chimeric antigen receptors (CARs) has demonstrated clinical efficacy in the treatment of advanced cancers, with anti-CD19 CAR-T cells achieving up to 90% complete remission among patients with relapsed B-cell malignancies. However, challenges such as antigen escape and immunosuppression limit the long-term efficacy of adoptive T-cell therapy. Here, I will discuss the development of and clinical data on next-generation T cells that can target multiple cancer antigens and resist antigen escape. I will also present recent work on tuning CAR signaling activities via rational protein design to achieve greater in vivo anti-tumor efficacy. This presentation will highlight the potential of synthetic biology in generating novel mammalian cell systems with multifunctional outputs for therapeutic applications.
Bio:
Dr. Yvonne Chen is an Associate Professor of Microbiology, Immunology, and Molecular Genetics at the University of California, Los Angeles. She is also a faculty, by courtesy, in the Department of Chemical and Biomolecular Engineering. Yvonne is the co-director of the Tumor Immunology program in the Jonsson Comprehensive Cancer Center at UCLA, and a member researcher of the Parker Institute for Cancer Immunotherapy. The Chen Laboratory applies synthetic biology and biomolecular engineering techniques to the development of novel mammalian-cell systems for clinical use, and Dr. Chen led the first investigator-initiated clinical trial on CAR-T cell therapy at UCLA.
The Chen Lab's work on engineering next-generation T-cell therapies for cancer has been recognized by the NIH Director's Early Independence Award, the NSF CAREER Award, the Hellman Fellowship, the ACGT Young Investigator Award in Cell and Gene Therapy for Cancer, the Mark Foundation Emerging Leader Award, and the Cancer Research Institute Lloyd J. Old STAR Award. Prior to joining UCLA in 2013, Yvonne was a Junior Fellow in the Harvard Society of Fellows. She received postdoctoral training at the Seattle Children's Research Institute, and in the Department of Systems Biology at Harvard Medical School. Yvonne received her B.S. in Chemical Engineering from Stanford University and her Ph.D. in Chemical Engineering from the California Institute of Technology.